iRobot Braava robot mops rise as another top-of-the-line series designed by iRobot to complement the Roomba series in keeping your home shiny and spotless. This series features 3 models of robot mops; Braava m6, Braava 380T and Braava jet 240. Each are uniquely designed with stunning features guaranteed to fascinate and delight your every cleaning need. Especially invented to target sticky clutters and greasy surfaces, you can count on these robot mops to provide a gleaming home to live in. Advanced built-in hardware and frequent software updates available in this series also enable consumers to enjoy newly added features in these models; improving the robot's functionality over time.
General features across the Braava series includes:
Multi-Cleaning Mode - Multiple cleaning modes (dry sweeping or wet mopping) available, each with their own uniquely designed cleaning pads to clean different surfaces.
Maximized-Edge Design – One of a kind squared design allowing the robot to reach every nook and cranny of your home including sharp corners and along edges.
iAdapt Navigation System – Built-in on-board camera and highly receptive sensors aid the robot in navigating hard-to-reach places in your home. The layout of your home can be mapped accurately to establish an efficient cleaning path for the robot.
Braava Jet Hard Floor Cleaning Solution – Each model comes with a cleaning solution that can be added into the water tank to provide a lasting fragrant scent to your floors after cleaning.
Cliff Detect Sensors – Safeguards your robot's security by detecting stairs, ledges or lofts and keeps your robot away from them.
If you are on the search for the perfect mopping robot to match your home settings and cleaning needs, the following features outlined for each model in the Braava series should help ease your decision-making.
Featuring multiple advanced features, iRobot Braava m6 robot mop is an exclusive invention that blows the conventional mop out of the water. The most advanced robot mop developed by iRobot yet, the m6 is possibly the epitome of perfection in the mopping robot industry.
Cleaning has never been easier!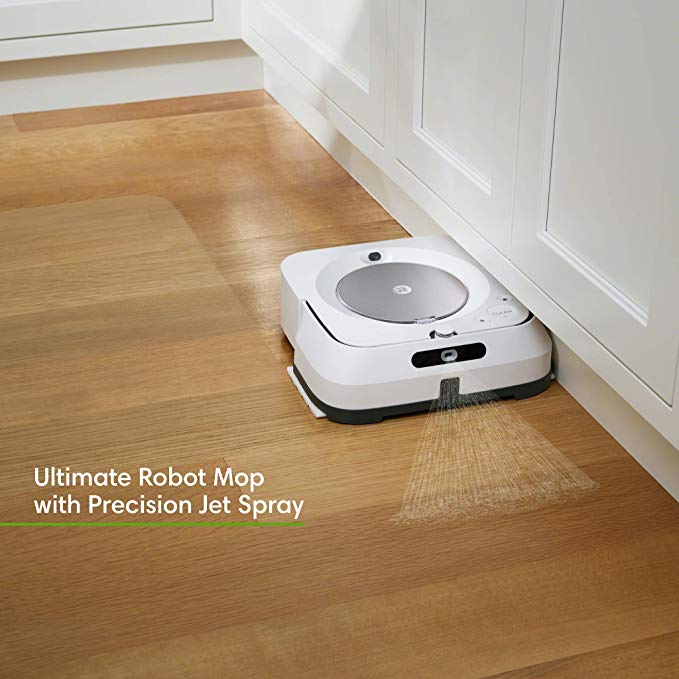 The newly added Precision Jet Spray feature enables Braava m6 to accurately spray water over dirty surfaces to loosen the stubbornest of dirt and grime, meanwhile keeping away from furniture, rugs or wall. Hence, you can keep your home clean without having to worry about collecting water puddles at unwanted areas. There are 2 mopping pads provided in this model – Wet Mopping pads and Dry Sweeping pads, both of which are suitable for cleaning of hard floors including hardwood, tile and stone. Simply attach your desired cleaning pad and m6 will automatically select the right cleaning mode for you. Wicking fibres are used in the wet mopping pad to loosen sticky messes, grime and grease. Meanwhile, the dry sweeping pad utilises electrostatic force to capture dirt, dust and hair. Ensure that the water tank is fully filled with water prior to wet mopping for guaranteed excellent cleaning results. Then, simply press the CLEAN button on your iRobot HOME App or the mop and you are good to go! If you wish to have fragrant floors, you have the option of adding Braava jet Hard Floor Cleaning Solution into the water tank as well.
A brainy mop that thinks on its feet!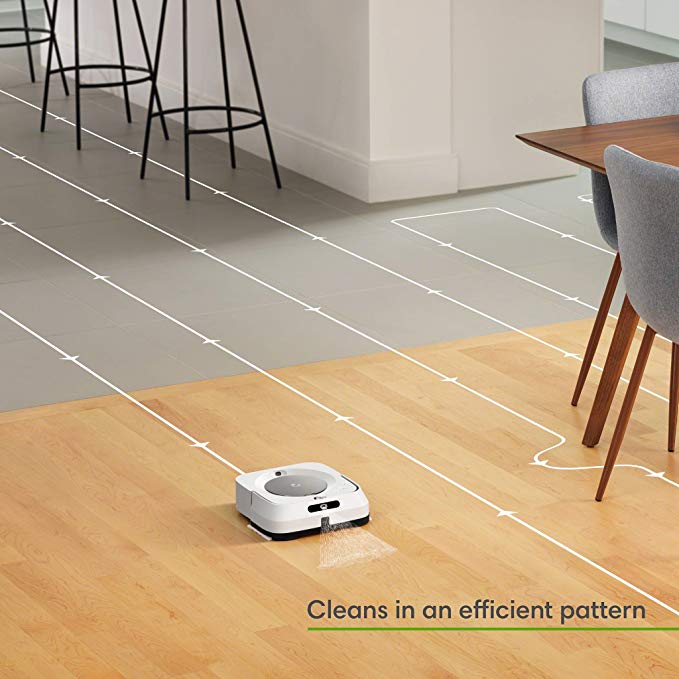 This model boasts the latest navigation system, iAdapt 3.0 with Imprint Smart Mapping Technology that can map your home's blueprint precisely allowing it to cruise smoothly through your home. Built specifically for large homes with complex layouts, the additional mapping feature can further compartmentalize your home into different sets of room for targeted cleaning of intended rooms. Braava m6 is the largest mopping robot designed by iRobot yet, making it ideal for large homes with wide living area. At a dimension of 10 x 10.6 x 3.5", it has the capacity to cover a larger surface area within a shorter timespan for efficient cleaning of massive homes. The model's Maximized-Edge Design also enables easy maneuvering along edges, deep corners and tricky spots to ensure no areas within your home are left uncovered. Braava m6 is currently the only robot mop in the Braava series that can be powered by iRobot HOME App and voice control through Amazon Alexa or Google Assistant. Hence, if you intend to operate your robot from the comfort of your couch or away from home, this would be the ideal choice for you. Adopting the same Auto-Recharge and Resume feature available in the Roomba series, m6 can automatically dock at its Home Base when its battery is running low or after completion of a cleaning cycle. You need not worry about your cleaning cycle being intervened as the robot will intelligently resume cleaning wherever it left off after full recharging. Unlike other robot mops in the Braava series, Braava m6 can run indefinitely without a premeditated run time owing to the Auto-Recharge and Resume feature.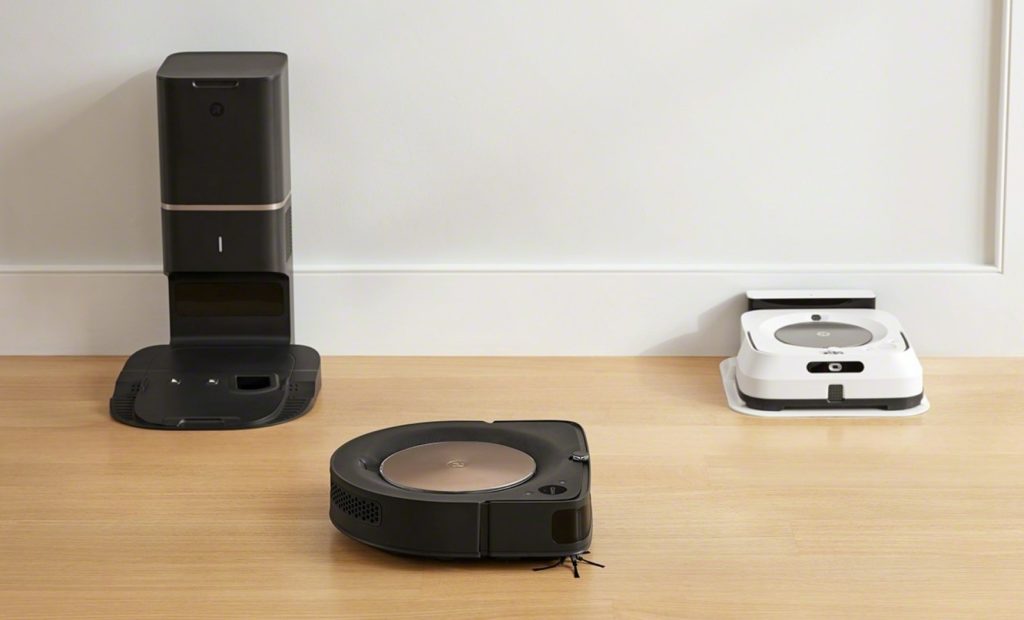 The additional Imprint Link Technology is also capable of connecting Braava m6 and Roomba i7/s9 in a single interface. You can now schedule your robots for automatic sequential cleaning – vacuuming followed by mopping for a doubly cleaned home!
The exorbitant features that accompanies Braava m6 do however make it one of the priciest mopping robot in the current market. If your home settings do not require these additional features, Braava 380t and Braava Jet 240 are less expensive alternatives to be deliberated. However, if the premium features of the m6 have picked your interest and proves beneficial for you in the long run, it would be a mighty well robot to invest in.
Should you buy the iRobot Braava m6 mopping robot?
If your home setting is large with a complicated layout and multiple rooms, this robot mop would be an excellent choice for you. It is the only model in the Braava series that excels at navigating both wide spaces and different rooms with the latest iAdapt 3.0 Navigation System paired with Imprint Smart Mapping technology. Its capacity to perform zoned cleaning enables targeted cleaning of different areas within your home. Boasting the largest size among the other robot mops designed by iRobot, m6's cleaning range also encompasses a wider area making it suitable for massive houses.
Fancy an automated home that does all the cleaning for you? If you are a proud owner of Roomba i7/17+ or s9/s9+, you may find having an additional m6 robot mop to be extremely helpful in keeping your home doubly cleaned! With the latest Imprint Link technology developed by iRobot, m6 remains as the only robot mop that can work in tandem with Roomba robot vacuums for successive cleaning of your floors – vacuuming followed by dry and wet mopping.
The ideal choice for those fully committed to their work or studies – Wi-Fi connectivity through the iRobot HOME mobile application allows you to schedule and monitor the robot from miles away. This abolishes the physical boundaries of cleaning as you can now operate your mopping robot from the comfort of your school or workplace. M6 is the only robot mop in the Braava series that can be linked to the iRobot HOME app. Trust the robot to complete its task for you without needing constant monitoring since it can recharge and intelligently resume cleaning afterwards.
iRobot Braava 380t is an advanced robot mop with premium-packed features to ease day-to-day housekeeping chores. One of the higher end mopping robots in the Braava series, it provides the highest cleaning quality and performance to satisfy your cleaning whims.
Premium yet straight-forward cleaning solution.
iRobot Braava 380t operates via the Pro-Clean System, an advanced cleaning system that encompasses a triple pass mopping action which will guarantee efficient removal of potent dirt and grime from hard floors such as hardwood, tile and stone. 2 cleaning modes can be manually selected in this model; dry sweeping and wet mopping. As the name suggests, no water or cleaning solution is required in the dry sweeping mode. This mode enables the robot to move up and down in a straight line across each room it cleans. In the meantime, the wet mopping mode will cover the same area in a repetitive cleaning motion to ensure all sticky dirt and grime are effectively lifted off the floors before moving to a new area. If you wish to have a fragrant finish to your home, you can additionally add Braava jet Hard Floor Cleaning Solution into the water tank for wet mopping. Its operation is truly a matter of child's play as you only need to attach a cleaning cloth and press the MOP or SWEEP button to see your robot come to life!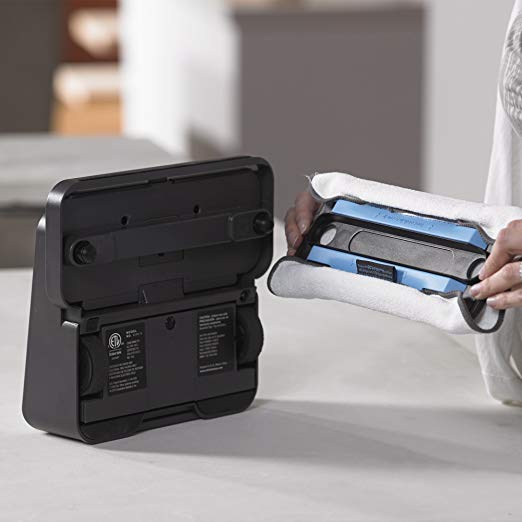 iRobot Braava 380t also boasts cost-effectiveness in terms of its maintenance as it is compatible with an array of cleaning cloths, be it the reusable iRobot microfiber cloths or any other disposable cleaning cloths.
A smart mopping robot for a smarter home.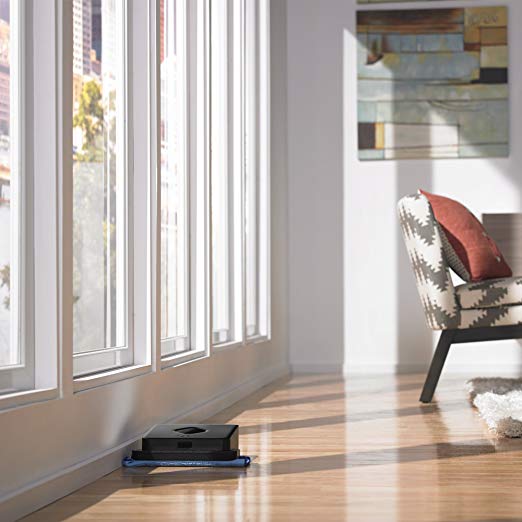 With an advanced iAdapt 2.0 Navigation system that utilises built-in camera and sensors, leave it to Braava 380t to smoothly navigate the entire floor plan of your home without any hitches. This model includes additional North Star navigation cubes that must be placed in a strategic location in the room during cleaning. The cubes will shoot a signal off the ceiling in that room that will be picked up by Braava 380t. This enables the robot to track its precise location within the room and establish an efficient cleaning route. It will also intelligently manoeuvre itself around obstacles and under furniture, providing a speedier clean compared to older robots that rely on the "bump and continue" approach. The new Maximized-Edge Design that accompanies this model allows easy tackling of tricky areas including deep corners, edges and under furniture. Unlike most conventionally round robots, the square design enables Braava 380t to get in proximity with adjacent walls, corners and edges for a comprehensive clean. Built specifically for the comfort of cleaning massive homes with wide living spaces, this model has a larger cleaning coverage compared to Braava Jet 240. In dry sweeping mode, Braava 380t can cover an area as large as 1000 square feet in a straight line. Meanwhile, the wet mopping mode allows the robot to cover about 400 square feet in a back and forth cleaning motion. Also, its extendable battery run time up to 210 minutes in sweeping mode and 150 minutes in mopping mode gives the robot ample time to mop your floors and cover a wider ground within your home.
iRobot Braava 380t is indeed one of the more extravagant mopping robots available in the market. Hence, expect to pay a hefty price to be able to enjoy the premium features included in this model. However, if you find this robot fitting perfectly to your cleaning needs, we can guarantee that Braava 380t is worth every penny in the long run given its powerful cleaning performance. Capable of keeping your home spotless daily, it may well be a value buy all around.
Is iRobot Braava 380T robot mop the right choice for you?
Drowning in endless work or school assignments and can't spare a moment for house chores? Worry no more while the Braava 380t comes to your rescue. With the capacity to perform both dry sweeping and wet mopping, leave it to the robot to keep your home shiny and spotless without you needing to break a sweat!
Those who own massive homes with complex layouts would benefit the most from this model as it can seamlessly navigate your floors with its advanced iAdapt 2.0 Navigation system and additional North Star cubes navigation device. Built specifically for cleaning of spacious areas, Braava 380t comes with an impressively long run time up to 210 minutes as well as a wide cleaning coverage up to an astounding 1000 square feet.
If your home bears many tricky spots that are tough to clean manually, Braava 380t can ease cleaning for you as it can effortlessly get into deep corners, edges and under furniture with its unique square Maximized-Edge design.
If you are new to the concept of smart cleaning devices or is simply looking for an economical mopping robot to keep your home tidy and clean, Braava Jet 240 would be the ideal steppingstone for you. This robot mop is great for keeping your floors sparkling between bouts of deeper cleaning sessions.
The most simplistically elegant cleaning approach yet.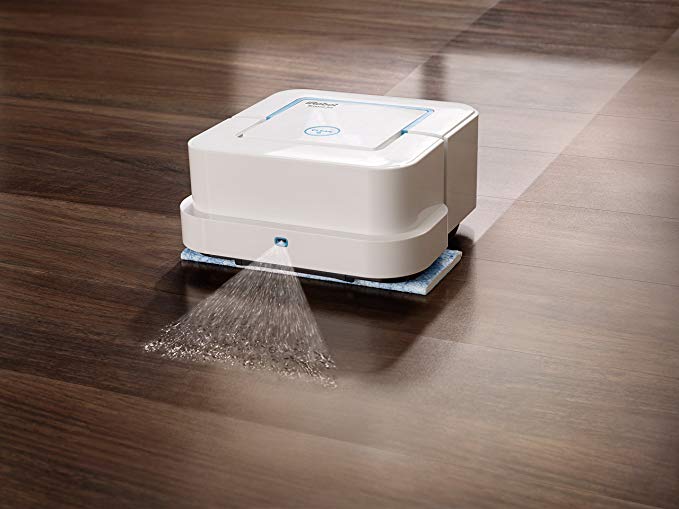 iRobot Braava Jet 240 operates via the patented Superior Precision Jet Spray and Vibrating Cleaning Head features that enable precise distribution of water over concentrated areas of dirt, stains and grime while keeping away from rugs, furniture and walls. This model also features Automatic Selection of Cleaning Modes whereby the robot intelligently chooses the correct cleaning mode based on the mopping pad attached to it. You can choose from a total of 3 cleaning modes, each with its own unique cleaning pad – wet mopping, damp mopping or dry sweeping- to suit the convenience of your cleaning requirements. The material of cleaning pads used complements well with mopping and sweeping of finished hard floors such as hardwood, tile and stone. In the wet mopping mode, Braava Jet 240 can perform a triple pass cleaning motion to effectively lift off the stubbornest of dirt, stain and grime. Meanwhile, a single pass will be made in the dry sweeping mode to lift off dust, dirt and pet hairs. For a fragrant home, add Braava jet Hard Floor Cleaning Solution into the water tank provided prior to mopping. With the newly added Pad Eject button available, you no longer have to worry about getting your hands dirty while removing the cleaning pads.
A brilliant companion for your smart home.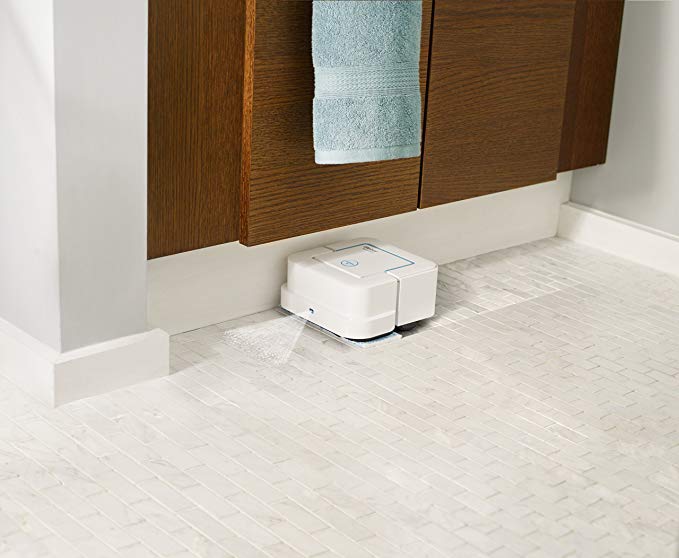 As with all models in the Braava series, Braava Jet 240 also utilizes the squared Maximized-Edge Design to get close to adjacent walls, corners and edges for thorough cleaning of these hard-to-reach places. Additionally, this model is particularly small and nimble, making it easy to navigate the smallest of spaces that might otherwise not get cleaned. It can also make a full 360-degree turn, allowing it to smoothly maneuver around furniture and other obstacles for a speedier cleaning cycle. Powered by the iAdapt 2.0 Navigation System, Braava Jet 240 can seamlessly navigate the entire layout of your home and device the best cleaning route for an efficient cleaning cycle. With the additional built-in Virtual Wall Mode, you can now construct an invisible boundary to keep your Braava jet in an enclosed space even in rooms without doors, such as kitchens and entryways. With its cleaning coverage that spans a total of 200 square feet and battery run time of 30 minutes, this model would be ideal in assisting the cleaning of small, cozy homes.
Despite being able to ease your housekeeping burden, Braava Jet is still not a match for the traditional mop given its relatively small size and cleaning power. However, it could still be a nice addition to your home if your floors are rarely dirtied to the point of needing constant thorough mopping. One thing's for sure, there is no physical labour needed in using this mop. Simply attach your desired cleaning pad, press the CLEAN button and watch the robot does the work for you. Maintenance wise, Braava Jet 240 is known to require more cleaning pads since it operates with 3 different cleaning modes. However, you always have the option of trading the iRobot's cleaning pads with store-bought washable pads that are not only recyclable but also more cost-effective in the long run.
Does the iRobot Braava Jet 240 mopping robot fits your cleaning needs?
If you are relatively new to the smart home cleaning journey, Braava Jet 240 may be the perfect start for you. It is reasonably priced and compatible with homes that require light maintenance cleaning between bouts of thorough cleaning. While it may not be an ideal substitute to the traditional mop, Braava Jet 240 can still be a great addition to your home by keeping it spotless daily; easing your housekeeping burden when it's time for deep cleaning to be done.
If you are looking for a simple and easily operated mopping robot, Braava Jet 240 is the least intimidating within the Braava series since it is only packed with essential features needed for a perfect clean. You don't have to be tech-savvy to be able to figure out the workings of this robot, unlike the other models with their accompanying premium features.
Houses with many hard-to-reach areas would benefit from this model given its small dimensions, square design to easily get into deep corners and edges as well as ability to make a full 360-degree turn to avoid any obstacles along its cleaning path.
We hope this list of top recommendations of iRobot Braava series in Malaysia can help ease your decision-making in purchasing your very own robot mop! Which of these mopping robots suit your homes' settings and cleaning needs best? Let us know your thoughts in the comment section down below!